Malicious and targeted attacks are constantly evolving and looking for potential flaws in security controls. Firewall security auditing is vital for enterprise network security. But according to Firemon, 'Only 45.3% of C-level respondents felt ready for a Firewall compliance audit.' This needs to change.
Managed Firewall is your first line of defence against malicious and anomalous activity. It is a crucial element that keeps out dangers, controls, and monitors activity, accepts, rejects, and drops access. Enforce a strict control on your firewalls, whilst allowing you to be flexible and dynamic in executing your business requirements.
Join SecurityHQ to Discuss:
What is a Firewall and Why it is Necessary?
The Different Types of Firewalls and Which One Should You Choose?
Where You Should Install Firewall and Why You Need to Protect Not Only Perimeter.
How to Implement Network Segmentation Correctly.
Firewall Management Challenges.
Does Your Business Need a Managed Firewall Service?
Benefits of a Managed Firewall Service.
What is Firewall Auditing and Why it's a Business Must?
Key Steps to Conduct Firewall Auditing to get the Most Out of It for Your Company.
Why Firewall Auditing is Not a Onetime Task and Should be a Periodic Activity.
Anton Makarychev
Head of Manage and Audit
Anton has over 15+ years of experience within the Information Security Industry in different roles, including Security Engineer, Security Analyst, Architect and Team Lead. This broad experience in different companies has helped him strengthen his skills in different fields of information security, including: Network security risk assessment, development and implementation (CCSM certified), Web and Infrastructure penetration testing, threat hunting (OSCP, CCPE-W certified), Information security audit and vulnerability analysis in diverse environments (including web and cloud-based) (OWASP, NSA guidelines and others), Information security systems administration (NGFW, EDR, XDR, PAM, NAC, SIEM and others), Team leading and project management skills.
Binoop Chandy
Sales Engineer
With 20+ years' experience in the IT industry, playing various roles including Sales Engineering, SOC Manager, SOC Lead, & Network Administrator, with expertise in supporting Firewalls, IDS/IDP, and UTM devices for a wide range of enterprise and commercial customers, Binoop is now based on the U.S. East Coast, offering technical solutions, and building strong, long-term customer relationships throughout the North American region. As part of the SecurityHQ team, he holds authority on all things pertaining to risk, threat, and response. As our clients trusted advisor, Binoop has a passion for seeking out and solving problems. His strengths are in developing & sustaining client relationships, building strong technical relationships, and solving customer challenges.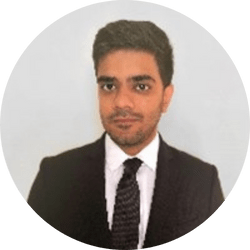 Lal Rupchandani
Network and Security Engineer
Lal is a Network and Security Engineer responsible for implementing, monitoring, and managing Network Security Infrastructure of SecurityHQ and SecurityHQ clients. He has a broad experience with Firewalls, Switches, Proxy, Load Balancers and SD-WAN Technology from various vendors like Cisco, Palo Alto, Juniper, and FortiGate. Lal is responsible for the implementation, monitoring, and management of internal and client security devices. He is trained in Palo Alto Networks, Cisco Network Associate (Routing and Switching), Cisco Network Professional (Routing and Switching), and Amazon Web Services (Solutions Architect). Among his vast knowledge, he specialises in Firewall deployment, management, and migration.