SecurityHQ Update • 1 Min READ
IBM 2020 Beacon Awards Finalists for Outstanding Security Solutions
by Eleanor Barlow • May 2020
SecurityHQ are excited to announce that we have been nominated as a finalist, within the 'Outstanding Security Solutions' category, for the 2020 IBM Beacon Awards.
The Beacon Awards is a highly prestigious award, and SecurityHQ are delighted to have been nominated as a finalist for our Outstanding Security Solutions.
"It is a privilege to be recognised by IBM, our clients, and our partners for our efforts. And to sit alongside outstanding global Managed Security Providers. It is testament to our hard work, our technology and our processes. But, above all, it is a testament to our dedicated team of experts, located around the globe. We could not be prouder. We also want to thank our technology partners, for their support. Without which we would not be the company we are today" says Feras Tappuni, CEO of SecurityHQ.
"Our success is largely down to our Incident Management & Analytics Platform, SecurityHQ's leading platform. Security Operations demand collaboration across staff, departments and third parties, armed with rich data and playbooks. SecurityHQ provides a unified security management platform to orchestrate incident response, prioritise actions, connect resources and visualise risk" Feras explains.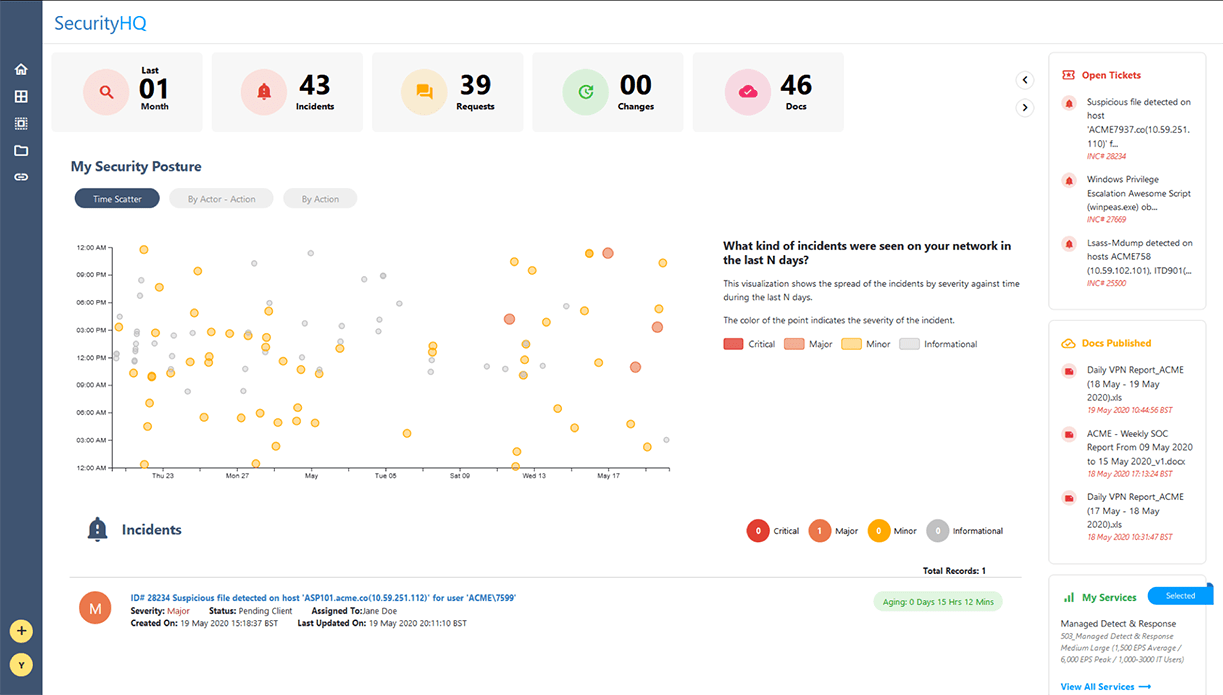 SecurityHQ holds a wealth of benefits, including, and not limited to, the following attributes.
Speed of Response
Your adversaries move fast. Your team needs to be faster. Empower them to detect, respond to, and resolve security incidents, rapidly and proactively tracked against SLA.
Prioritise Incidents
SecurityHQ dynamically categorises incidents against Mitre ATT&CK. And assigns the risk of incidents, based on the CIA attributes, asset criticality and the normal behaviour of the impacted asset.
Connect with Security Teams
Collaboration across IT and Security teams to prioritise, remediate and rapidly respond to security risks. Escalate and action tasks to your ITSM tooling, including ServiceNow, Jira, and Remedy.
Visualise Data
Receive clarity of incident attributes, to illustrate the problems and patterns based on your incident metrics. Illuminate your data with interactive visuals, via SecurityHQ Data Driven Documents.
And much more…
Our mission is to deliver exceptional and transformative solutions that drive business value.
If you would like more information on the 2020 IBM Beacon Awards, visit:
https://www.ibm.com/partnerworld/events/beacon-award-winners
Alternatively, you can watch the virtual award ceremony here: https://www.ibm.com/blogs/business-partners/celebrating-our-2020-ibm-business-partner-award-winners/
To learn more about our services, visit: https://www.securityhq.com/services/