• 5 MIN READ
SecurityHQ Named Frost Radar Leader in Frost and Sullivan's 2023 America's MPSS Report
by Eleanor Barlow • Mar 2023
SecurityHQ, a Leading Global Managed Security Services Provider (MSSP), are delighted to announce their inclusion in the latest Frost Radar™ Americas Managed & Professional Security Services Market, 2023. This report, released by Frost & Sullivan, provides a benchmarking system, to highlight and compare leading cyber security companies, their innovative methodologies, and to spark companies into action.
The report assesses and highlights cyber security companies leading the way throughout the US.
'SecurityHQ allows its customers extreme flexibility with a pay-as-you-grow pricing model, which further cements its customer-centric approach. SecurityHQ understands that most customers are in the middle of their digital transformation journeys and need help in securing their changing environments. Such flexibility will provide SecurityHQ with many growth opportunities, and its customers with a way to grow their businesses without compromising the security of their critical assets.' – Lucas Ferreyra, Industry Analyst, Frost & Sullivan.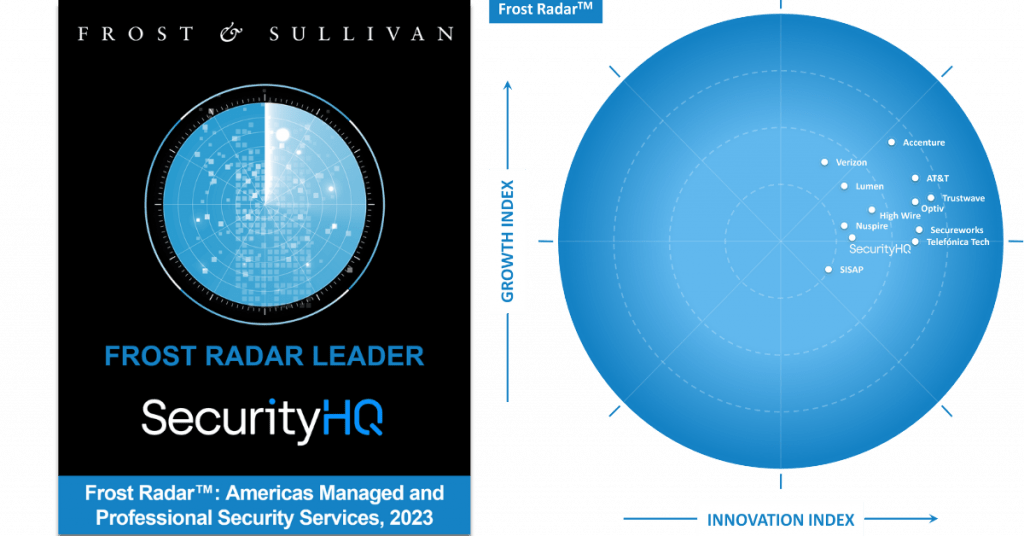 'SecurityHQ demonstrates a keen understanding of the latest trends and the most important technologies in the managed services market, stemming from its global presence and experience of partnering with cybersecurity customers throughout Europe, the Middle East, and more recently, North America. Such understanding is apparent in the breadth and relevance of its offering, including MDR, DFIR, Vulnerability Management, Red Team engagements, and Penetration Testing.' – Ferreyra
SecurityHQ have been operating in the United States for many years, and, due to their exponential growth, recently opened a new SOC based in New York.
'We have invested heavily in additional technology and people, with supplementary cyber security capabilities, Cyber Security Managers, analysts, upgraded platforms and scalability, to ensure that we deliver for our U.S. customers.'– Feras Tappuni, CEO, SecurityHQ Inc.
Download the SecurityHQ profile, Frost Radar Americas Managed and Professional Security Services, 2023.
About SecurityHQ
Global MSSP with world-class Security Operation Centers (SOC's) located around the world, to manage, detect and defend against all malicious activity. Powered by real-time log analytics, security orchestration, automation & response tooling for investigation, threat hunting and response, the company's 300+ analysts are available to detect, monitor & respond to cyber threats around the clock, to address security risks and challenges, and improve security posture. By combining dedicated security experts, cutting-edge technology and processes, clients receive an enterprise-grade experience that ensures all IT virtual assets, cloud, and traditional infrastructures, are protected.
Website: www.securityhq.com
Facebook: https://www.facebook.com/Sechq
Twitter: https://twitter.com/security_hq
LinkedIn: https://www.linkedin.com/company/securityhq/
Media enquiries, contact Eleanor Barlow [email protected]