Infographics • 7 MIN READ
8 Top Tips to Improve Your Cloud Security [Infographic]
by Leonardo Maroso • Jun 2023
Most of us use Google Drive, or Google Dropbox, Apple (i-Cloud), Amazon Web Services. But with so many vulnerabilities in Cloud, how do you ensure that your important data stays safe?
Here are our top tips to keep in mind when securing your data!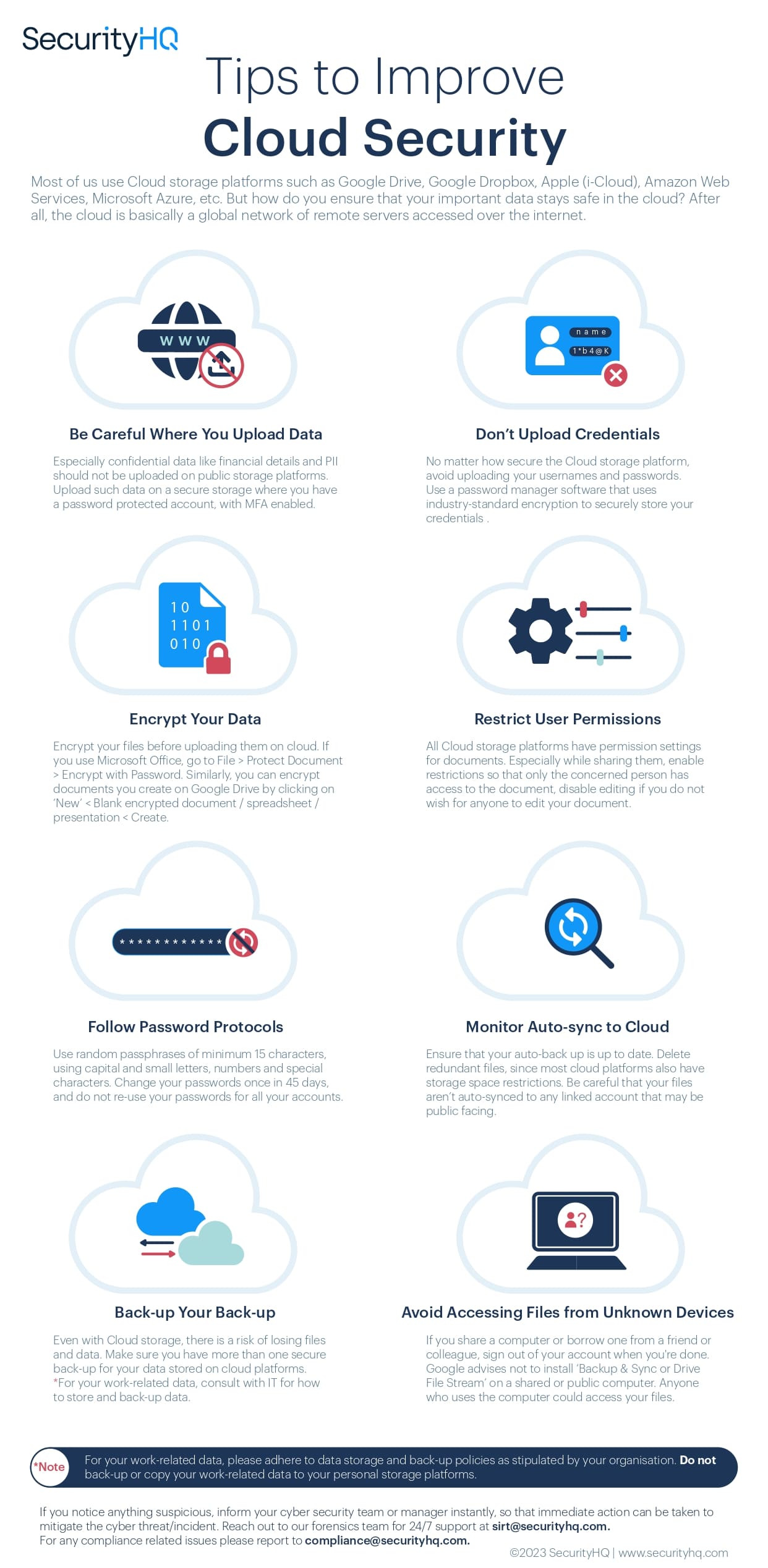 Be Careful Where You Upload Data
Especially confidential data like financial details and PII should not be uploaded on public storage platforms. Upload such data on a secure storage where you have a password protected account, with MFA enabled.
Don't Upload Credentials
No matter how secure the cloud storage, avoid uploading your username and password for accounts. Use a password manager software to securely store your credentials.
Encrypt Your Data
Encrypt your files before uploading them on cloud. If you use Microsoft O ice, go to File > Protect Document> Encrypt with Password. Similarly, you can encrypt documents you create on Google Drive by clicking on 'New' < Blank encrypted document / spreadsheet / presentation < Create.
Restrict User Permissions
All cloud storage platforms have permission settings for documents. While sharing documents, enable restrictions so that only the concerned person has access to the document, disable editing if you do not wish for anyone to edit your document.
Follow Password Protocols
Use random passphrases of minimum 15 characters, using capital and small letters, numbers and special characters. Change your passwords once every 45 days at least, and do not re-use your passwords for all your account.
Monitor Auto-sync to Cloud
Ensure that your auto-back up is up to date. Delete redundant files, since most cloud platforms also have storage space restrictions. Be careful that your files aren't auto synced to any linked account that may be public facing.
Back-up Your Back-up
Even with Cloud storage, there is a risk of losing files and data. Make sure you have more than one secure back-up for your data stored on cloud platforms. For example, if you have files on your apple cloud, ensure you also back it up on your Google Drive.
Avoid Accessing Files from Unknown Devices
If you share a computer or borrow one from a friend or colleague, sign out of your Google Account when you're done. Don't install Backup & Sync or Drive File Stream on a shared or public computer. Anyone who uses the computer could access your files.
Note: Please adhere to data storage and back-up policies for your work-related data, as stipulated by your organisation. Do not back-up or copy your work-related data to your personal storage platforms.