Throughout 2021, in every part of the world, cyber security threats increased, challenges grew, and in the face of uncertainty, organisations did their best to mitigate against attacks that were new and destructive. But what these adversities provided, was a glimpse into the development of threats of the future. And how, from our experiences throughout this last year, and the approaches seen, we can learn to better safeguard people, processes, and data in 2022.
As a global MSSP, SecurityHQ had full visibility of threats as they evolved during 2021, and of the large campaigns and threat groups as they developed.
In this paper you will learn about
Our SecurityHQ observations throughout 2021 with a look into prevalent threat actors and initial access brokers.
2021 Threat Timeline, with a review of the Top 4 Threats and what this means for the threat landscape of 2022.
An analysis of Supply Chain Compromise and a look into the security of Cryptocurrency & Digital Assets.
An analysis of the expanding ransomware tactics & affiliates, and what growing geopolitical tensions mean for cyber threats.
A review of our adversary watchlist, so you know who/what to keep an eye out for.
Recommendations for 2022 - 6 Steps to Get Ahead of the Game.
Download White Paper
This site is protected by reCAPTCHA and the Google Privacy Policy and Terms of Service apply.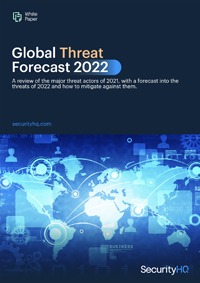 With 21, 957 New Vulnerabilities Released In 2021 Alone, Know What to Look for to Defend Against the Threats of 2022
Download White Paper